The CR-E90AM2 is an extension part that appeared in Armored Core: Nexus and later in both Armored Core: Nine Breaker and Armored Core: Last Raven.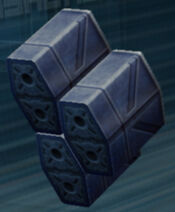 Modified version of the E81AM. Improved intercept ability.
Part Type: Extensions
Manufacturer: Crest
Type: Anti Missile
Price: 60,900c
Weight: 227
Energy Drain: 164
Ammo Type: Solid
Vs MG Response: 60
Ammo: 40
Intercept Range: 230
Firing Interval: 10
Ammo Price: 136
This part can be purchased from the shop for 60,900c.
This extension part appears almost identical to the CWEM-AM40 extension part from Armored Core 3 and Silent Line: Armored Core.
Community content is available under
CC-BY-SA
unless otherwise noted.