The CSS-1A-64S is an Extension part that first appeared in Silent Line: Armored Core.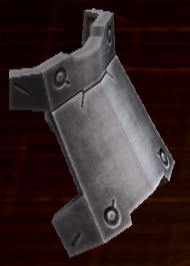 Part Description
Edit
Modified CSS-1A-42S.
Part Statistics
Edit
Part Type: Extension - Side Shield
Manufacturer: Crest Industries
Price: 58,300c
Weight: 146
Energy Drain: 6
Shield Def Shell: 320
Shield Def Energy: 115
Shield Coverage: 42
Cooling: 100
Usage Drain: -
Acquisition
Edit
This part can be purchased from the shop for 58,300c.
Community content is available under
CC-BY-SA
unless otherwise noted.