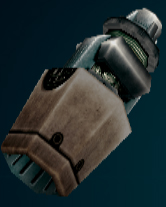 The EBT-GE is a booster part that first appeared in Armored Core 2 and later in Armored Core 2: Another Age.
Part Description
Edit
Cheapest. Low output & Energy use.
Part Statistics
Edit
Part Type: Booster
Price: 11000
Manufacturer: Emeraude
Weight: 204
Energy Drain: 27
Boost Power: 9800
Charge Drain: 4350
Efficiency: 883
Acquiring
Edit
This part is the starting booster part in both games it appears in, meaning you have it from the beginning of the game.
Notable Users
Edit
This is the most inexpensive booster part and the one with the lowest Energy Drain in both games it appears in.
Community content is available under
CC-BY-SA
unless otherwise noted.