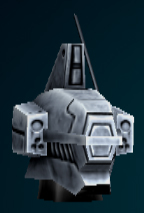 The EHD-GARD is a head part that first appeared in Armored Core 2 and later in Armored Core 2: Another Age.
Part Description
Edit
Battle type with fine balance.
Part Statistics
Edit
Part Type: Head
Price: 19300
Manufacturer: Emeraude
Weight: 156
Energy Drain: 405
Armor Points: 597
Def Shell: 160
Def Energy: 116
Defensive Points: 276
Computer Type: Rough
Computer Voice: Male
System Recovery: 240
Auto Balancer: 1070
Hacking Function: 1
Map Type: None
Noise Canceler: None
Bio Sensor: Provided
Sensor Interval: 18
Radar Function: None
Cooling: 47
Computer Ability: 1094
EDPS: 80
Acquiring
Edit
This part can be bought in the shop. It is in the shop from the beginning of both games it appears in.
Notable Users
Edit
and at least 5 other Ravens
This part is the most inexpensive head part and the one with the lowest Armor Points, lowest System Recovery, highest Auto Balancer value and highest Computer Ability in both games it appears in.
Community content is available under
CC-BY-SA
unless otherwise noted.