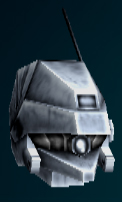 The EHD-NIGHTEYE is a head part that first appeared in Armored Core 2 and later in Armored Core 2: Another Age.
Part Description
Edit
Advanced computer & mapping head.
Part Statistics
Edit
Part Type: Head
Price: 49700
Manufacturer: Emeraude
Weight: 197
Energy Drain: 680
Armor Points: 840
Def Shell: 177
Def Energy: 155
Defensive Points: 332
Computer Type: Detailed
Computer Voice: Female
System Recovery: 1020
Auto Balancer: 396
Hacking Function: 1
Map Type: Area&Place Name
Noise Canceler: None
Bio Sensor: Provided
Sensor Interval: 0
Radar Function: Provided
Radar Range: 300
Radar Type: Standard
Scanning Interval: 80
Cooling: 80
Computer Ability: 498
EDPS: 460
Acquiring
Edit
This part can be bought in the shop. It is in the shop from the beginning of both games it appears in.
Notable Users
Edit
and at least 5 other Ravens
This is the part with the highest Scanning Interval among head parts equipped with a radar function in both games it appears in
Community content is available under
CC-BY-SA
unless otherwise noted.