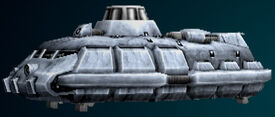 The ELC-HTT0808 is a leg part that first appeared in Armored Core 2 and later in Armored Core 2: Another Age.
Part Description
Edit
Hover propulsion type.
Part Statistics
Edit
Part Type: Legs
Type: Hover
Price: 25700
Manufacturer: Emeraude
Weight: 2972
Energy Drain: 2922
Armor Points: 3688
Def Shell: 646
Def Energy: 635
Defensive Points: 1281
Maximum Weight: 7842
Moving Speed: 285
Moving Ability: 396
Landing Stability: 4530
Defensive Stability: 1741
Turning Speed: 444
Stationary Drain: 2365
Jump Function: None
Braking Ability: 288
Cooling: 625
Acquiring
Edit
This part can be bought in the shop. It is in the shop from the beginning of both games it appears in.
Notable Users
Edit
Community content is available under
CC-BY-SA
unless otherwise noted.