The MHD-RE/005 is a Head part that first appeared in Armored Core 3 and later Silent Line: Armored Core.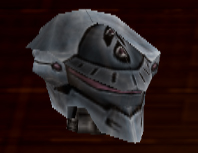 Part Description
Edit
Close-range, basic performance model.
Part Statistics
Edit
Part Type: Head
Manufacturer: Mirage
Price: 22,500c
Weight: 234
Energy Drain: 216
Armor Points: 1000
Def Shell: 196
Def Energy: 172
Defensive Points: 368
Cooling: 388
Computer Type: Detailed
Computer Voice: Male
System Recovery: High
Map Type: No Memory
Bio Sensor: None
ECM Canceler: None
Radar Function: None
Acquisition
Edit
This part can be purchased from the shop for 22,500c.
Armored Core 3
Silent Line: Armored Core
This part is used by the lightweight Mirage AC in the opening video of Armored Core 3.