Zaltehook
is a
Raven
who appears in
Armored Core 2: Another Age
.
Information
Edit
A Martian Raven, Zaltehook is a top-ranked Raven from the Martian Arena. He comes to Earth for an Arena match with the Raven. He loses the match and later challenges the Raven again with an improved AC and Human PLUS abilities, although he still loses. He is encoutered in the mission Special Arena Appearance and Special Arena Rematch.
AC Obyura
Edit
Obyura is a middleweight two-legged AC equipped with a triple rocket launcher, a dummy maker, an energy machine gun, a laser blade and an overboost core.
Obyura Kai
Edit
A modified version of the original Obyura equipped with more powerful weapons. It is equipped with anti missile extensions, a ground torpedo back weapon, a laser rifle, a laser blade and an overboost core. Due to the Human PLUS enhancements of the pilot the unit can fire blade waves.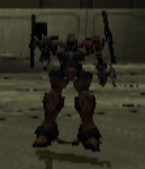 Zaltehook is easy to beat in his first form. He doesn't have any special capabilities so he can be taken down easily. But his second form is much more dangerous. He has gotten Human PLUS capabilities and this is where you should be mindful. He will stay in the air for quite some time and he likes to overboost. There are also those annoying turrets on the ceiling. It is recommended to destroy the turrets first before proceeding to beat Zaltehook. In his second form, his strategy is to fire off a few shots from his torpedo weapon before dropping down for while to chip away at you with his laser rifle. Take him when he drops down; that's his most vulnerable point.
Obyura Kai
Edit
Community content is available under
CC-BY-SA
unless otherwise noted.